Tweet
I don't know why I'm feeling compelled today to defend something that I'm not unhappy to hear my daughter doesn't want to do next year, but here I am about to do it.
A blog post came across my radar today about a Girl Scout, who after participating in a tweetchat to promote a website she'd created to raise funds to donate cookies to U.S. military troops, was told she couldn't collect those donations through PayPal.
Using language like "@GirlScouts Crush [my emphasis] a Girl's Social Good" and describing the Girl Scouts has having "utter ignorance to social media," the post weaves a tale of overinvolved parents, jealousy, double-standards and backstabbing that could fit easily into a TV drama series.
Now, as I stated in my own comment on that post – one of more than 80 comments so far – I'm not going to say the whole Girl Scout cookie sales process is perfect. I've joked to friends that the mafia could probably learn a thing or two from Girl Scouts when it comes to controlling territory as tightly as booth locations and staffing are managed. And, there's been drama aplenty in our own little troop when parents take it too much upon themselves to help their daughters succeed.
But, I feel compelled to come to the organization's defense regarding their knowledge of social media. And, to point out that there are two different issues at play in this situation: online payments and competitive parents.  The first might be changing for the better and the second appears to be changing for the worse.
According to a Seattle Times story, while there have always been hard-to-please parents, some experts say parental micromanagement has gone mainstream: "Overinvolved parents and overscheduled children are the recommended ways to raise children these days," said Dr. Alvin Rosenfeld, co-author of 'The Over-Scheduled Child: Avoiding the Hyper-Parenting Trap.' "And it's really not to anyone's good."
"Some parents have a terrible fear that they won't turn out to be good parents so they overcompensate by trying too hard. Some might be filling their own need to be as perfect in parenting as they are in other areas of their lives. These parents often find themselves competing with other parents out of a fear that their children will be less advanced than their peers, or even left behind, socially or academically," said Dr. Alexandra Barzvi, Clinical Director of the Anxiety and Mood Disorders Institute at the NYU Child Study Center.
This type of competition can drive parents to get into fist fights at sporting events or to go overboard trying to make sure their daughter is the top cookie seller. This type of behavior is actively discouraged by the Girl Scout organization, though. When I witnessed it first-hand, I didn't blame the Scouts, I blamed the parent.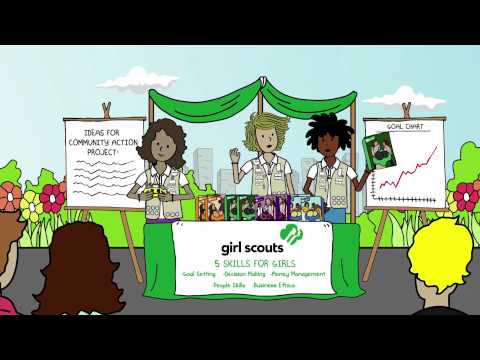 Now the other issue involved in the story of the girl who couldn't use PayPal is leveraging social media and new technologies. The blog author said "I for one will not support an organization that sells a product using methods that are so clearly out of date that it is in no way preparing their children members for the realities of the world today."
I believe this statement itself is not made with a full picture of what Girl Scouts is doing to leverage technology, and more specifically, social media. You can find the Girl Scouts on Facebook, Twitter, Pinterest, YouTube, Flickr and their own blog. Just today my local Council sent out a link through Facebook to new cover photo images that moms like me could add to their Facebook profiles to let our friends know we can connect them to a "cookie professional."
Yes, there's room for improvement because these were targeted primarily at moms while there are cookie dads out there, too; but, maybe some involved dads will point this out to them and they'll add more. People may wonder if that conflicts with discouraging parents from selling and whether that illustrates that they aren't encouraging the girls themselves to use social media. Well… if they're under 13 years of age they're not supposed to have a Facebook profile per the site's Terms of Service. The reality is a much smaller percentage of girls stay in Girl Scouts as teenagers. And, there is one image that they could use because it doesn't mention being a mom.
But, back to the blogger's contention that Girl Scouts methods of selling are out-of-date because they don't allow for individual girls to set up PayPal accounts to accept funds. While online payments are not currently allowed (and we're all told this up front), Girl Scouts are now making credit card transactions possible through the use of smartphone technology. Some Councils are using Sage and seeing great results, while ours has leveraged North American Bancard to provide me with a "swiper" we can use whenever someone doesn't have cash, or just prefers the convenience.
I don't have all the inside information into why online payments aren't currently allowed, but I can think of a couple of things to be considered before the organization goes there.
One is the fact that approximately 70 percent of cookie proceeds stay in the local Girl Scout council and with individual troops to provide a portion of the resources needed to support Girl Scouting in that area. The balance goes to the baker to pay for the cookies. Girl Scout councils do not provide any portion of their cookie revenue to Girl Scouts of the USA. While, yes, my daughter can sell cookies to my family in another state, if she were to open an online shop, it takes the out-of-region selling to a whole new level.
Another consideration is the girls' own safety. Girl Scouts going online and potentially giving out personally identifying information such as full names, location, school name, troop number, etc., goes against the basics of online safety for kids. Something awareness of was trying to be increased by yesterday's Safer Internet Day.
I sure hope the 11-year-old participating in that tweetchat had read Girl Scouts Tips for Girls for Social Media before going online, and perhaps had taken their Online Etiquette quiz, and signed the Girl Scout Internet Safety Pledge. And, hopefully her parents read Girl Scouts Tips for Parents for Social Media before letting her open a Twitter account – something that is also against Twitter's Terms of Service.
And, if you want any more proof that Girl Scouts embrace social media and other modern marketing methods, just see what The New York Times' Diner's Journal shared about National Cookie Day activity in The Big Apple.
So, while one blog writer and a few of his commenters will be boycotting Girl Scouts and their cookie selling, I hope others will not follow suit. Not because my daughter wants to win an iPad for selling 1,000 cookies, or whatever; but, rather so she will continue to build her business skills and her troop will be able to enjoy an educational – and, yes, fun – overnight camp-out at Sea World.
Please download the Official Girl Scout Cookie Finder app (iOS or Android) and support your local "cookie professional' this Friday on National Girl Scout Cookie Day and every other day!
Tweet